When:
januari 11, 2020 @ 14:00 – 17:30
2020-01-11T14:00:00+01:00
2020-01-11T17:30:00+01:00
Where:
De Ondersteuning
Wijgmaalsesteenweg 192a
Herent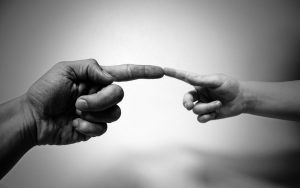 Menselijke relaties kunnen een bron zijn van grote vreugde en verbondenheid, maar ook van diepe pijn en eenzaamheid. Vaak voelen we ons niet gehoord, niet erkend, of niet goed begrepen. We weten soms niet hoe we ons het best kunnen uitdrukken, op een manier die duidelijk en respectvol is. Of we geraken verzeild in discussies, spanningen en conflicten, maar vinden de sleutel niet naar verzoening en wederzijds begrip.
Hoe kunnen we zo leren communiceren dat het leidt tot meer verbinding en harmonie? Wat betekent het om authentiek te spreken, met respect voor onszelf en de ander? En hoe kunnen we werkelijk leren luisteren, zodat de ander zich gehoord en gezien voelt?
Tijdens deze workshop leer je het model van Marshall Rosenberg kennen, de grondlegger van Geweldloze Communicatie (ook wel Verbindende Communicatie genoemd). We staan stil bij waar communicatie zo vaak vastloopt en hoe je er anders mee kan omgaan. De nadruk ligt op zelf oefenen en ervaren. Je krijgt ook theoretische input en er is ruimte voor jouw vragen. Je kan steeds je eigen voorbeelden inbrengen en aan de slag gaan met concrete situaties uit je leven.
Praktische info:
* Wanneer: zaterdag 11 januari, 14u tot 17u30.
* Waar: Groepspraktijk De Ondersteuning, Wijgmaalsesteenweg 192a, Herent.
* Prijs: 45 euro. Water en thee zijn inbegrepen.
* Inschrijven: mail naar leni@ont-moeten.be. Het aantal plaatsen is beperkt (maximum 10).
---